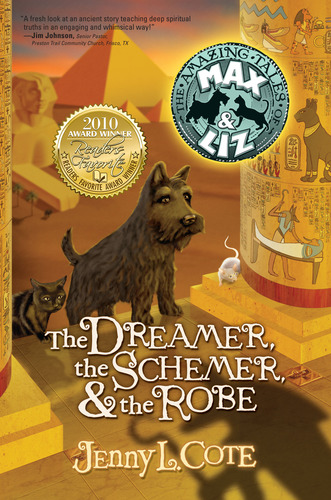 The Dreamer, the Schemer, and the Robe
is an adventures story during the time of Joseph. Four animals, Max, Kate (dogs), Al, and Liz (cats), are working for God, helping mankind throughout biblical times. They encounter friends from different countries like: Osahar, a loud bactrian camel, and Nigel, a British mouse. These four animals travel with Joseph in his time in Egypt. His brothers, as they live with the guilt of selling him as a slave.
They live from anywhere from the jail house all the way to the house of Pharaoh. But, there are forces of evil working against them. Can these for animals stop this evil before time runs out?
...Jenny Cote has written yet another magnificent piece! She brings her characters to life, adding personalities to people we may only know a name for, and many historical facts in
The Dreamer, the Schemer, and the Robe
...
I have read all of her published books so far (her next book is coming out in late February!) and I am amazed at all she has been able to do through this series. The main characters are animals, which some might consider childish, but the stories are not written for little three year old's. (but the stories could be read to them!) Anyone from young ages on up can read this series, for it has much to teach us all!
The story engages it's reader to use their imagination, visiting many countries in her first book in this series,
The Ark, the Reed, and the Fire Cloud.
In the second book, we visit Egypt, as well as Joseph's family back home in Canaan. Even though her books may seem daunting to read because of their size, you will not want to put them down!
I encourage you to read this book, and the others in her series. If you like historical fiction, biblical stories (with some imagination mixed in), as well as the love to read, then this book is probably for you!
To get more info you can go to Jenny Cote's website:
www.epicorderoftheseven.com
to find out more about her books and sign up for her Epic News on her
Fanpage
.
10 out of 10 stars