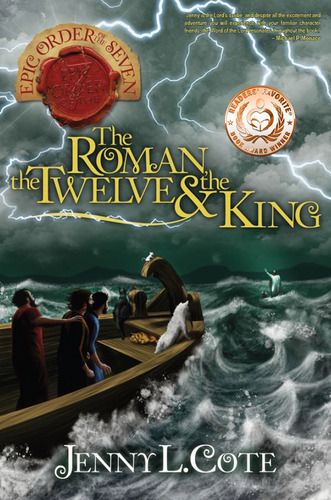 In the
The Roman, the Twelve, and the King
,
the second book in the Epic Order of the Seven series, Jenny Cote brings you back to almost 2,000 years ago. Max, Kate, Liz, Al, and Nigel are sent on a mission to help G. F. Handel with his masterpiece, the Messiah. To get inspired for the upcoming music the team, along with their new teammate, are sent back into the time when Jesus lived among us. Watching as he feeds thousands, heals the blind, lame, and many other miracles, the team is excited as they see the Messiah come and share about God's love after centuries of waiting to see the many prophecies be fulfilled.
It is definitely an EPIC read, and as Nigel would say, "It just takes the biscuit!"
The Roman, the Twelve, and the King
is really an amazing book, as you feel like you're right there as Jesus teaches and heals thousands, along with His trusty animals.
Jenny Cote has done an awesome job with this book, probably the best one she's written so far. The characters in her book are funny, smart, and would be awesome pals to have around. :) Each member on the Epic Order of the Seven has a personality that makes you fall in love with them, and as some of them learn to face their fears, and to trust Jesus through it all, you get to "see" the most important time in history, the life of Jesus.
The Roman, the Twelve, and the King
is definitely a must read.
10 out of 10 stars