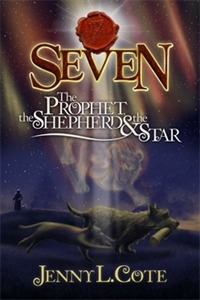 Following
The Amazing Tales of Max and Liz
, The first book in the
Epic Order of the Seven
series begins with
The Prophet, the Shepherd and the Star.
Bringing you into the times of prophets like Isaiah and Daniel, to the time of Christ's birth. You get to experience the prophesies that were written hundreds of years before the coming of the Messiah. You witness Israel during the reign of King Hezekiah and the Assyrians attack, Babylon conquered by the Medes and Persians, Jerusalem during the time of the Romans. You visit with the shepherds who were first told of the coming of the King, with Joseph and Mary as they live in Nazareth and Bethlehem, and you join the magi as they travel over the desert to see the newborn King, the promised Messiah.
Max, Liz, Kate, Al, and Nigel all come back for an exciting adventure, helping God's chosen one's to succeed, and to keep the enemy from destroying everything. Join them as they live a one of a kind adventure!
...When the enemy is right behind them, will they be able to stop his evil plan?
(It's really hard for me to write reviews for the books in this series, as they are so wonderful, and hard to describe.) :)
Jenny L. Cote has done an excellent job bringing the Biblical time to life, while adding fun characters and facts throughout the book.
I've read this book over and over again, and I never grow tired of reading this authoress' writings. Adding facts, fiction, and imagination leave this book a masterpiece. You find out about the different discoveries people made back then, from shapes and math to astrology. It is amazing reading about the different prophesies Christ fulfilled during His time here on earth just in His birth.
The Prophet, the Shepherd, and the Star
is definitely a must read.
Overall I would rate this book 10 out of 10 stars.