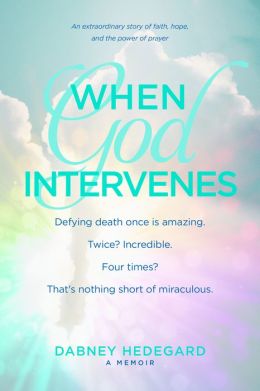 When God Intervenes is a remarkable story about Dabney Hedegard. She writes her personal story of when was six weeks pregnant and was diagnosed with cancer at 25 and decided to postpone the treatment until after her first pregnancy. This marked the beginning of ten years battling cancer, cardiomyopathy, mitral valve porlapse, pulmonary embolism, acute pneumonia, kidney failure, respiratory failure, and heart failure. Ever time Dabney was given less than a 30% chance of surviving, and twice doctors told her husband she wouldn't make it through the night. But God intervened every time and miraculously rescued Dabney from death.
When God Intervenes is an extraordinary book. I am amazed at how Dabney Hedegard was able to make it through that time only on the Lord, and how close she was to not making it to the next her. Her testimony is touching, and she writes in a way you want to know what happens next. Does she get to see her family again the next day?
At parts the story brings tears to your eyes, and you wonder what you would have done in that situation. When God Intervenes is a Five Star.
(I received this book complimentary from Tyndale for review purpose)
www.TyndaleRewards.com