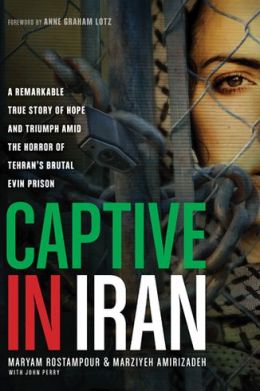 Captive In Iran, is written by Maryam Rostampour and Marziyeh Amirizadeh. These two Iranian women courageously stood firm in their faith while in Evin, the notorious Tehran prison. Despite the possible sentence of death, Maryam and Marziyeh continued to share their faith to their fellow cellmates. Captive in Iran is a mind blowing and encouraging story of how these two sisters in Christ continued to believe, not matter what the cost.
I was excited to finally be able to read
Captive In Iran
, but what not sure of what to expect. What I read was really amazing. I cannot begin to imagine what it must have been like in Evin. How loosing your friends, facing interrogations, and the many other things they went through must have been like, and yet they faithfully continued to share the love of Christ to everyone. I definitely suggest you read this book. It has the moments when you are joyful for those who are freed, and when you are saddened from the executions of others. It is encouraging to read of how they prayed and when their prayers were answered.
Captive In Iran
is a must read.
www.TyndaleRewards.com